Every face in this iconic photo has a story to tell. This is the story of Joe Bodner (circled) of the Duke of Connaught's Own Riffles (later to become the BC Regiment) and his family's history of service.
As told by his grandson Derek Bodner, freelance journalist and veteran advocate.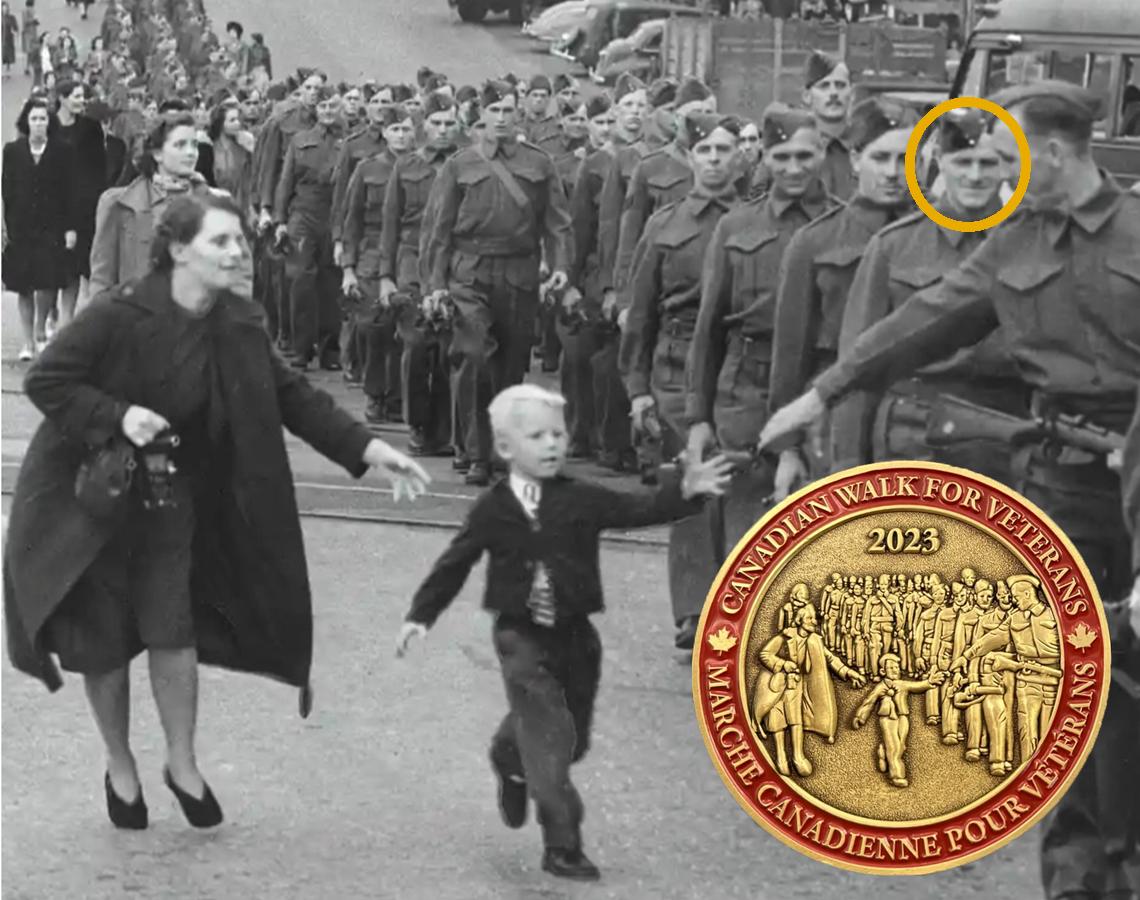 Derek Bodner has been an active supporter of the Canadian Walk For Veterans and has been doing the walk in Edmonton since 2019
On October 4th, 2014, a statue was unveiled in New Westminster, British Columbia which commemorated what is perhaps the most famous and iconic picture of the Second World War in Canada. I'm speaking of course about Claude Dettloff's "Wait For Me Daddy", which made the cover of the extremely popular LIFE magazine. It would propel Jack Bernard and his young son Warren "Whitey" Bernard to fame, the latter going on to appear personally during national War Bond drives. But whatever became of the others in that photograph? Who were they and what were their stories? My grandfather, Rifleman Joseph John Bodner, was the man in line directly behind Jack Bernard, and I'd like to share with you now his story.
Grandpa, who went by "Joe" to those that knew him, was born in Hamilton, Ontario in 1905, to Hungarian immigrants. He married his first wife there, but unfortunately, she wouldn't survive the birth of their first child, leaving him a young widower. He left his son in the care of his mother's family, and then decided to forge a new life out west on the prairies. He settled in the town of Lestock, Saskatchewan, where he met and married my grandmother. Neither a fan of the prairie weather extremes, they picked up stakes and went further west, ultimately settling in the community of Mission, located in the Fraser Valley of British Columbia, where they rented a farm on which to raise their growing family.
He volunteered when war was declared in 1939, joining the Duke of Connaught's Own Regiment, which would later become part of the BC Regiment. He didn't realize that he was being photographed on that fall day in New Westminster as the regiment made its way to the train station. They trained on Vancouver Island for a while before ultimately being shipped to Ontario where the regiment converted into an armored regiment in January 1942, setting sail for England later that summer. The regiment was sent to France in late July 1944, but my grandfather remained in England for the rest of the war. If I had to hazard a guess, I'd say that was because by D-Day my grandfather was 39-years old and the sole provider for a wife and six kids back home. He returned home on February 1st, 1946, and by the time my mom was born in 1949 she would have nine older brothers and sisters, including her one half-brother. 
They were by no means wealthy, but everyone would have enough to eat and they were a close, tight-knit family who loved to laugh and have fun. Sadly, a heart attack claimed my grandfather in August of 1965, having not quite reached the young age of sixty.
As things turned out, grandpa wasn't be the only one in the family to be featured in the international press, as his oldest son would attract headlines of his own in 1953, but that is another story.
Read the fascinating story of Pte. James Bodner: READ MORE